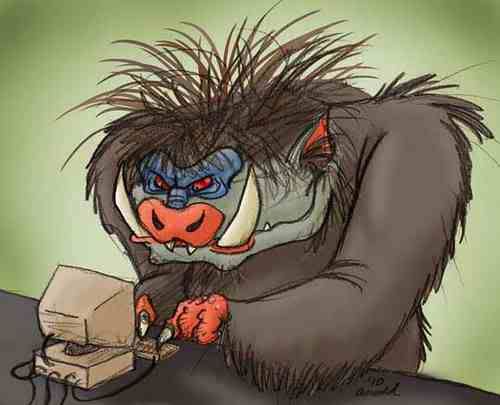 So So what exactly are internet trolls?
Wikipedia defines a troll (in internet slang) as "someone who posts inflammatory, extraneous, or off-topic messages in an online community, such as an online discussion forum, chat room, or blog, with the primary intent of provoking readers into an emotional response or of otherwise disrupting normal on-topic discussion".
Internet trolls are a hot topic at present with recent reports including that of Frank Zimmerman in the UK receiving a 26 week suspended sentence for sending a threatening email to Tory MP Louise Mensch. It was alleged he had sent the email in which Mensch was called a 'slut' and told to stop using Twitter or decide which of her children would die if she didn't.   He was found guilty under the Communications Act 2003 of sending a menacing and offensive message
It has been reported today that major reforms of the libel laws in the UK will see a duty placed on internet service providers to try to identify internet trolls without victims needing to resort to costly legal action. In return websites will also be given greater protection from being sued if they help to identify those posting defamatory messages, under government plans.
The defamation bill, (to be debated shortly in the House of Commons), will also see would-be claimants having to show they have suffered serious harm to their reputations, or are likely to do so, before they can take a defamation case forward.
It is proposed that the bill will introduce a single-publication rule, so that the one-year limitation period in which a libel action can be brought would run from the date of the first publication of material, even if the same article is subsequently published on a website on a later date. In addition it is likely that the bill will also replace the common law defences of justification and honest comment with new statutory defences of truth and honest opinion.
The following link to the UK Parliamentary business provides some useful background to the Draft Defamation Bill. Updates to follow!